Together Is Power. It's more than a tagline. It defines our beliefs and exemplifies the value we place on our greatest assets – our employees. That's why we've created a truly unique environment at McAfee, filled with possibilities at every turn. You'll find a family-like company culture where people really do look out for one another, as well as executive leadership that's accessible, approachable, and transparent. We also have a serious commitment to fun with things like celebrations and family-first opportunities, office scooters, and our PAW Program that allows you to bring your dog to work. This is a diverse and inclusive workplace where you can innovate, grow, and make an impact on the communities we serve.
Our
Values at Work
The values that guide us are ingrained in everything we do and every decision we make.
We Achieve Excellence with Speed and Agility

We Put the Customer at the Core

We Play to Win or Don't Play

We Innovate without Fear

We Practice Inclusive Candor and Transparency
Diversity
& Inclusion Pillars
We are committed to creating a culture that embraces and celebrates differences.
We talk about the science behind diversity.
We educate employees about the operating principles of the brain and how to avoid any unconscious bias.
We think differently about hiring.
We put hiring and recruitment practices in to place that help ensure everyone has equal opportunity.
We make inclusion a part of a company goals.
Every McAfee employee has a vested interest in driving diversity.
We support authenticity at work.
We invest in our employee-led groups, McAfee Communities, to foster the understanding and appreciation of the value our differences bring to all employees.
We forge relationships that matter.
We help inspire the next generation of talent among under-represented groups by partnering with universities and organizations that share our commitment.
The McAfee
Pledge
It's a united call to action. A promise that, together, we are aligned in our quest to protect our world from cyber threats.
Watch Video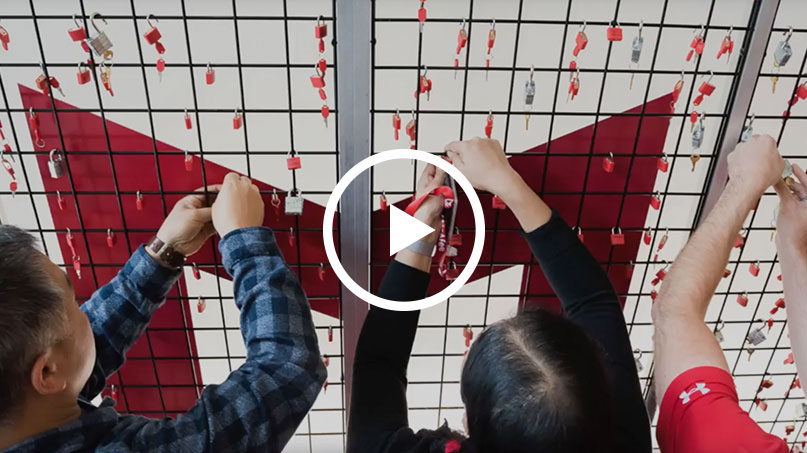 As an expecting father, it's gratifying to know I'm part of the solution to building a safer world.
~Harsha, Program Manager
Boundless opportunity – that's what I value most about McAfee. If you want to grow your career, all you have to do is raise your hand.
~Gabriela, Channel Manager
You get to make a difference, and not just in your day job. Through Global Community Service Day, teaching Online Safely for Kids or volunteering for McAfee Explorers, the options are endless!
~Kim, Sales Enablement Specialist
The
Benefits
We're here to support you in virtually every way with the tools, perks, and programs that make life better – both at work and at home.
Competitive compensation and retirement plans
Generous paid time off
Continuing education opportunities like online courses and training through McAfee University, plus tuition reimbursement
Comprehensive health insurance and wellness programs
Ride around on scooters, bring your pup to work on Friday, and get involved with our employee-run communities
With our Global Community Service Day, Online Safety for Kids program and more, you are empowered to make a difference
Global
Community Service Day
We're committed to the communities we call home – around the world. Every year, our employees volunteer with a variety of charities and nonprofits in more than 25 countries – delivering meals to those in need, working with at-risk youth, donating blood, and assisting at local animal shelters.
See Highlights From This Year's Global Event